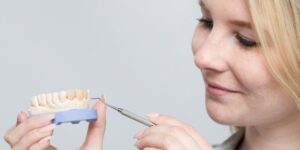 Crowns, also known as caps, are fixed over the surfaces of natural tooth structures or dental implants. Bridges are used to fill in the gaps left by missing teeth and are anchored in place by the natural teeth or crowns nearest the empty space.
What to expect on your first visit:
1 – Numbing your tooth.
2 – Preparing (trimming) your tooth.
3 – Taking the tooth's impression. Conventional dental impressions.
4 – Choosing the shade (color) for your crown.
5 – Placing a temporary crown.
What to expect on your second visit:
Your second visit is usually 10 days after your first.
1 – Placing the crown
FAQs