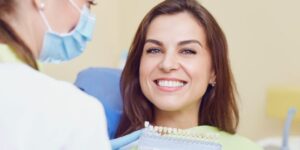 Dentures are a trusted and effective way to replace missing teeth. They are removable plastic or metal frameworks that carry single or multiple false teeth.
We offer wide range of denture including.
Plastic, chrome, and felxi denture(Valplast) Dentures.
Complete dentures are a full set and replace all your upper and lower teeth, either /or. Whereas partial dentures only replace one or a few missing teeth.
Flexible dentures are made without metal, are thin, lightweight, and pliable, which means they're more comfortable than traditional dentures. There's no long adjustment period needed when you start wearing them.
All type of denture need multiples visits usually between 2 to 4 visits.