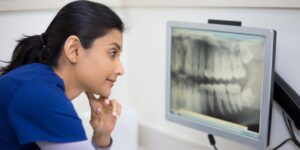 Like X-rays taken in other parts of your body, dental X-rays use electromagnetic radiation to capture images of your mouth. The radiation beam passes through your soft tissues and creates images of your teeth and bones. We use the digital xray hat can be seen on our  computer immediately). Digital dental X-rays use 80% to 90% less radiation compared to traditional dental X-ray machines.
We offer Intraoral Xray: 
Bitewing X-rays.
Periapical X-rays.
Occlusal X-rays.
FAQs
It's safe to have X-rays of your teeth while pregnant or breastfeeding, however; we avoid taking X-rays during pregnancy unless it's absolutely necessary.